As the world is advancing people are becoming more and more dependent on technology. The importance of electronics is undeniable and it has become such an intimate part of our lives that we just can't even imagine living without it. The electronic market has bloomed so much that setting up an electronic store has become an easy mean to make money in e-commerce. Choosing the perfect theme for an online business is one of the most important aspects of launching an online store. The theme plays a vital role in the success of an online business. It can either make or break one's business. In the online business world, the layout and overall look and feel of your website play a role in how your business is perceived. This makes it even more important to choose the perfect theme. The competition in the market is so much that nothing but the best can only survive and continue to prosper. So here are some of the best electronic store Shopify themes:
5 Best SHOPIFY Premium themes collection for Electronics Products Store

Electronics Store Responsive Shopify Theme – MediaCenter

If you are looking for a theme for your electronic store than Electronics will be your best pick as it is not only responsive, clean and modern theme but it is also very user-friendly and can be easily be customized. The theme is mobile friendly and gives you an option to choose from two header styles with unlimited color options and six pre-defined colors. It offers more than six hundred plus Google fonts to choose from. It is built with HTML5 Nad Bootstrap3 which makes it even more efficient. A lot of efforts have been put in developing this theme and they have paid up as the reviews have been very positive.
Azshop – Shopify Theme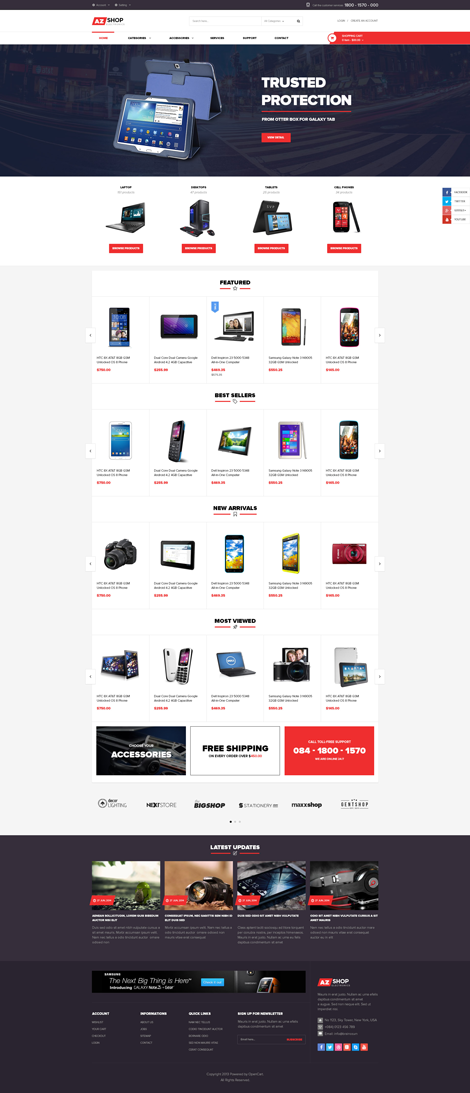 Azshop is a brilliant piece of work and is your ideal theme to start up an electronic store online. It provides you with all that you need. Built up with modern design and technology it will surely amaze you. The specific thing of this theme is that it has 4 completely different homepages including Auto, Electronic, Fashion, and Tools. The rich mega menu does add to its efficiency as well as style. The auto search option provided comes in very handy for the customers and give them a very rich experience.The list of features offered is just never ending. The reviews for this theme overall have been brilliant and shows how good it actually is.
Minimal Multipurpose Shopify Theme – SixthTee

SixthTee is a package of Best Premium Multipurpose Shopify Themes designed and developed by ThemeForest Top Elite Author. SixthTee has a custom design for electronics store, dark style fashion shop, white purple jewelry store and luxury jewelry shop. SixthTee has multi-purpose twelve plus unique layout and colors, minimalist style included. The design is unique and clean and is sure to give you a great experience. It a responsive theme and features a drop-down menu with a main slideshow. It is made on Bootstrap 3 which makes it easy to run on any multimedia devices. The detailed documentation along with a beautiful typography makes it a great theme to use.
MediaMart – Electronic, Computer, Gadgets & Digital Multilingual Responsive Shopify Theme

It is a dedicated theme for setting up an electronic store and offers everything one needs. The O3 pixel perfect demo makes it easy to get your online store up and running in no time. It provides a powerful customization which is sure to amaze you with its flexibility and ease. It has both mega menus as well as a vertical mega menu which makes it very unique. The features are ever-lasting and the quick view pop-up is a delight with his put up with the sole purpose of decreasing the number of clicks and making it easy for shoppers to buy stuff. The unlimited color options make it more beautiful and attractive. People have shown the appreciation for this theme through here reviews which have been great over the years.
Ap Golmart – Responsive Shopify Theme

Ap Golmart has shown great figures when we talk about sales. The reviews have also been really good over the years. Ap GolMart Shopify Theme is totally responsive and unique theme. It has different 4 homepages and it is designed for diversified commodities as fashion, present, decor, furniture, electronic and multi-store thus it is suitable for any e-commerce sites for online stores. It is fully responsive, twitter bootstrap 3 and supports both CSS3 and HTML5 that help to create refined web pages with semantic accuracy. The list of features is just ever-lasting and gives you the best possible experience there can be.