Best Shopify Themes for Wedding Store
In the last couple of years, e-commerce has made a spot for itself in the market. The major reason behind this is the ease of shopping that it provides, one doesn't need to leave the comfort of their homes to get whatever they want. Shopping has been revolutionized by the introduction of e-commerce. As far as weddings are concerned shopping is a pivotal part of weddings. One needs to buy a lot of stuff for the big occasion. This has been the reason for the recent bloom of the e-market for wedding product.
In order to make one's wedding website a success, it is necessary to create a top-notch website that is capable of alluring customers. This is where the Shopify themes come into play. The process of making a great website has become easier than ever with the use of the theme. All that needs to be done is to pick the best theme which complements your store and suits your personal style and you are ready to go. This is the part but the difficult part is to figure out the best theme for your e-commerce website, so in order to help you out here we present some of the best Shopify themes for a wedding store:
List of Top Shopify themes for Wedding Store
Window Shop – Wedding Shopify Theme

This theme has been made by the Buddha theme for the Shopify platform and has been dedicated to setting up a wedding store. This is the latest theme by Buddhathemes and has all the necessary features. The theme is responsive and works well with all the modern devices. New elements have been added to the home page in order to make your website look unique and stand out. With five different mega menu designs and thirteen different styles of headers, it provides flexibility to the user to develop a website according to there wishes. Some of the most awesome features like the ajax cart, currency switcher, quick shop and cloud zoom have been added to the theme.
Wedding – Responsive Shopify Theme

This is yet another masterpiece available on the Shopify platform for developing a wedding website. The theme is made specifically for setting up a wedding shop and has all the features required to so. The presentation that the theme provides is just great and will definitely attract a lot of buyers. It is a clean and modern template and has been made such that it works well on all screen sizes. Being a fully responsive theme it works well on all devices. It provides three different home layout options to choose from. Using this theme one can sell any wedding product they want in the best possible manner. The video background features really do the trick of attracting customers.
Bridal – Sectioned Responsive Shopify Theme | Multipurpose for Wedding & Couple

This template literally requires zero coding work. Setting up a wedding website does not get easier than this. There are multiple fresh looking layouts available with the theme. With the various customization options available one can make it look as they please. The theme does all this with great ease, with the least effort you can set up your wedding store website in almost no time. The design has been optimized to go along with all the popular screen resolutions. The best thing is that there are two different product styles that have been provided, you can choose the one that fetches the best results for you. The theme is loaded with each and every feature that you will ever require to run your online wedding shop.
Variety – Sectioned Multipurpose Shopify Theme

Variety is a multi-purpose Shopify theme which has been specifically created for stores like a wedding store. With the layout and the color combination, the theme looks good and stands out from the rest of the crowd. It provides a clean and professional look to your website. None of the important features have been left out on this templates.
Ap Shopping Center – Responsive Shopify Theme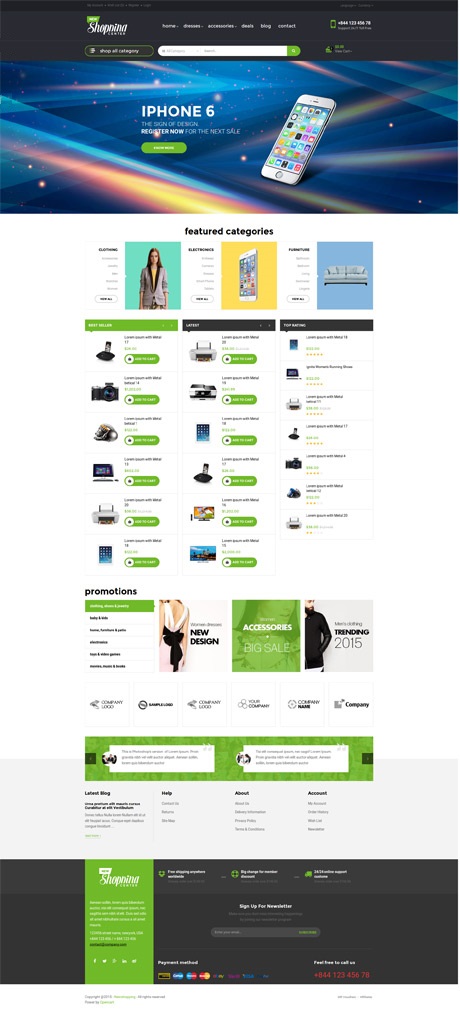 Ap Shopping Center is a clean and responsive Shopify theme which is best suited for stores like a wedding store, fashion store, bag store etc. It is boosted by the Ap framework which is one of the best Shopify frameworks. It supports CSS3, Shortcode, and HTML5. The theme is capable of creating refined web pages that provide semantic accuracy. With the support of extensions, there is no need for any coding for setting up your website.
All these themes work well and will help you set up your wedding store with ease. Choose according to your needs and preference.
Shopify themes for Wedding Store Gallery Photos