The recent trends of searching for a job, is through online job portals. To facilitate such platform, wordpress has brought about a large variety of readymade templates for easy setting up of a website. A website template that should aid a job portal should essentially have job boarding platform, candidate profile creation, resume uploading and messaging features. It should be flexible for sourcing candidates, that is it should be possible to filter various criteria set by the employer.  We bring to you best 5 wordpress themes that would help you in setting up a job portal website. These suggestions are based on the various features of the website template that makes it ideal for usage.
5 Best WordPress Premium themes collection for Job Portal
Nine to Five – Premium WordPress Jobs Theme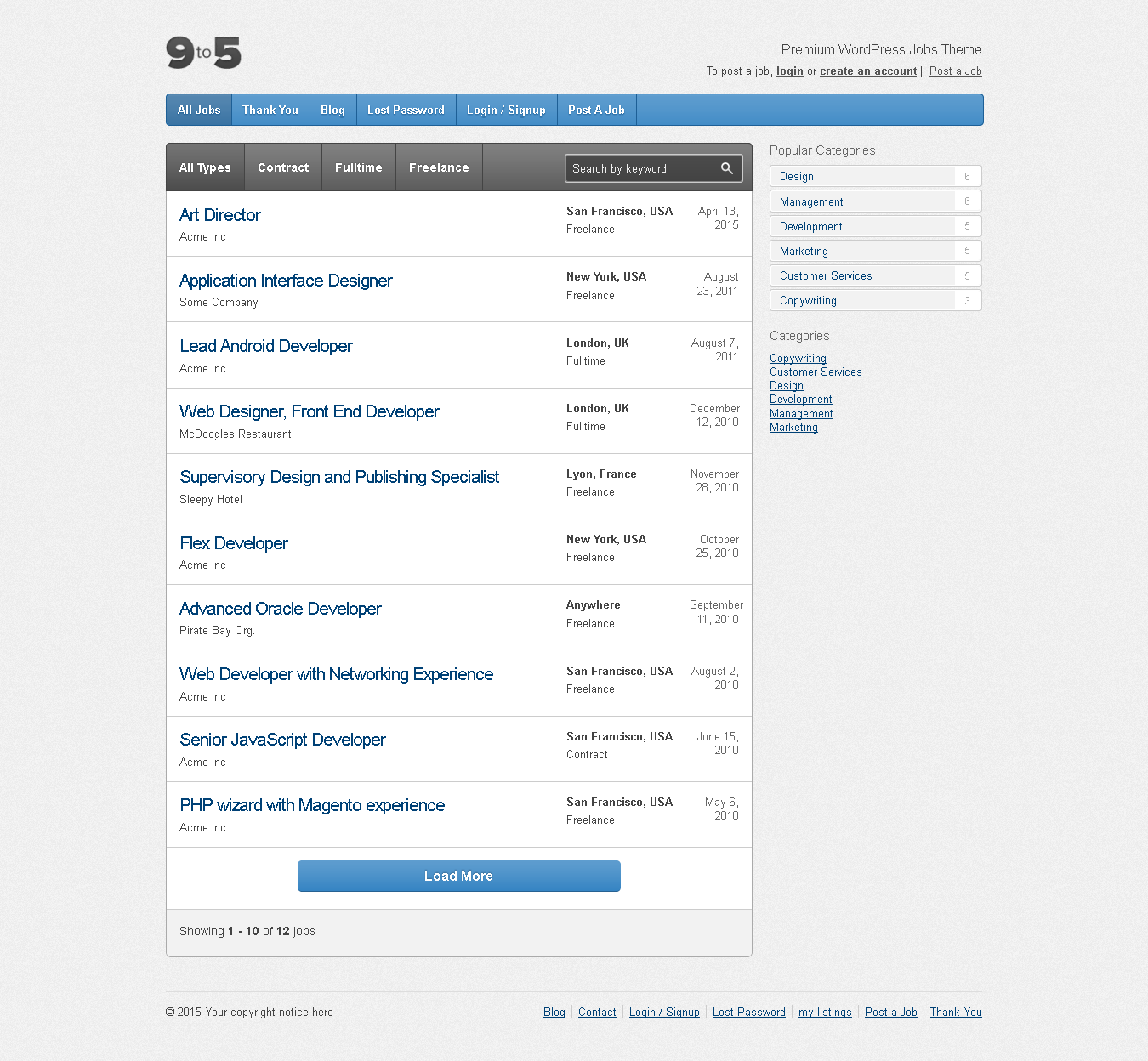 9 to 5 is a wordpress template that comes with extensive documentation, with free updates and simple installation process.  9 to 5 wordpress template comes with a pre-define set of themes, basically dark and light, from which we can choose from.  The customer can also have their own logo. This job portal template also has google maps integration to access the location. The prospective candidates who sign up in using this wordpress template will also be able to share job opportunities through facebook and twitter. 9 to 5 wordpress theme is readily available for translation into various languages.  A fully functioning blog is also available that will be a boost to the customers and their users.
Jobify – The Most Popular WordPress Job Board Theme

Jobify is one of the best wordpress theme that helps you to build a easy platform to connect with employers and prospective employees.  This wordpress template has resume manager plugin which facilitates the candidates to upload their resume easily. This feature also makes it easy for the employers to scan the resume of large number of candidates based on key features.  Jobify is a mobile friendly platform allowing a large network of users to make use of. It also has in-built gravity forms that allow users to showcase the skills.  This wordpress theme also has features that allow users to apply with Facebook and Xing. Jobify also has Indeed – a job portal linked with it. This wordpress is Search Engine Optimized, thereby making it an instant hit for the customers.
MeshJobs – A Complete Job Portal WordPress Theme

This is one of the best wordpress template available in the market for setting up a job portal. Mesh job is a complete package by wordpress  that has all features in-built, so the customers need not have any additional plugins. This wordpress template has job alert facilities that make it superficial over other themes. This will be an ideal website for candidates, so there won't miss any chance of getting hired. This template has advanced features of filtering that will be helpful in narrowing to a job. This wordpress template has Google features that help to locate the candidates and also the recruiters to search their prospective candidates. A fully responsive website template, thereby ideal for all gadgets and this will be a boost to the customers and their users. With numerous themes, this website is ideal for any organization to start a job portal.
JobCareer | Job Board Responsive WordPress Theme

JobCareer is a wordpress theme with simple drag and drop options, thereby making it easy even for the beginners to manage the website with ease. It is a complete Job Board WordPress theme that allows you to create a useful and easy to use job listing website. Using JobCareer wordpress theme, you can create a complete and a fully Responsive job portal or a career platform to run human resource management, which will be aided by numerous add-ons that is available in the package. JobCareer theme has been built with the plan to make it compatible with famous plugins like indeed, wp-job manager. With the extended customer support this is one wordpress template that would satisfy the customers need.
Jobmonster – Job Board WordPress Theme

Jobmonster is one of the most user friendly wordpress template for people looking to setup a website for job search. It has provisions for a candidate to apply in three different ways – through uploading resume, form filling else through LinkedIn. Jobmonster wordpress template has special features for candidates to maintain their profile, edit their resumes and manage their accounts. It provides a facility were the job posters can interact with the candidates about the job nature. This wordpress template also gives popup messages to the candidates about a job status. So, for people in need of a user oriented website this wordpress template would do the best.