Hostgator 1 cent coupon code
1CentMyPlan – First month for just 1 Cent (valid for Baby & Hatching plans).
Hostgator, the largest web host, keeps running various offers and promos where you can buy their web hosting and other products for a heavily discounted price. This is mostly done to get more leads and increase their customer base. They run black friday deals where you can buy any of Hostgator products at upto 80% discount. The Red Cross day deals of Hostgator give flat 50% discount on your total bill.
Here, I have another great Hostgator offer for you today. I recently posted a How Hostgator is best for WordPress blogs? post and included as much details as needed. The final verdict of the review was that that you should try Hostgator as it has hosting plans which suite everyone's needs.
Today, you can yourself try out Hostgator web hosting services for 1 Month , just by paying 1 cent. Yes. I have created a discount coupon for Hostgator which will let you buy 1 month of shared hosting from Hostgator for just a penny.
If you are not assured about the quality and services of Hostgator, you can try their Baby plan (Read Review) for 1 month by paying a penny using our 1CentMyPlan coupon. You should try to find more and more about their services during the month and then decide whether to renew your plan, based on their services.
How to use Hostgator 1 cent coupon code
To use the 1 cent discount coupon code and get 1 month of unlimited hosting on Hostgator for a cent , Just follow these steps.
Go to Hostgator shared hosting page.
Now, You can choose between Baby and Hatchling plan. I suggest you to go for Baby plan. In the dropdown, select Monthly plan and click order now.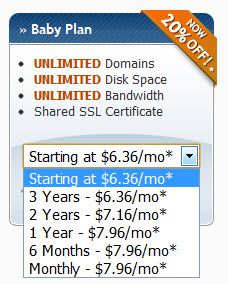 Now, go to the bottom of page. Untick the add-on products.
Its an important step. Unless you untick the sitelock and codeguard add-ons, you will be billed for approx $50 and this coupon won't work.
Now, in the coupon field type 1CentMyPlan and click apply.

Now, check your total due to be paid. Its $0.01.
Congrats !! Now, upload your website or install wordpress with hostgator's 1-click script installers.
However, you will have to pay 1 cent to Hostgator using your credit/debit card or Paypal. Do not worry. You will be billed for only 1 cent.
If you want to discontinue Hostgator's services after 1 month, you should delete your account before the renewal date.
However, I am sure you will be completely satisfied with Hostgator's excellent services as I am.
I regularly post the best Hostgator coupon codes and other hosting coupons and tips on Wendypeterson.
For any help regarding hostgator web hosting services, feel free to get in touch via comments.