Today presentation has become the key to a successful business, the way one portrays his items brings out the true potential of a business. With stiff competition in the market, it has become a necessity to pay attention to each and every detail. In today's world of digitalization, most of the businesses have gone online. People love the ease of shopping online. For a seller, the importance of having an attractive website has become an important part of the selling strategy. With the advancement in the e-commerce market almost all the major businesses have taken up the online forum and a boutique store is no exception.
Boutiques have been in existence for a long time and have become a pivotal part of our lives. They are the places where a buyer can buy fashionable clothing as well as accessories at the same place. If you are thinking of starting your own online boutique store than you have to make sure that your website is so made that it attracts the attention of the buyers and at the same time is easy to use both for you as well as your potential customers. The importance of using a good template for building up your e-commerce website can help you boost your sales. If you are looking out for themes for your online boutique store than you are at the right place. Here are some of the best Shopify themes for a boutique store:
List of Top Shopify themes for Boutique Store
Avenue – Responsive Shopify Theme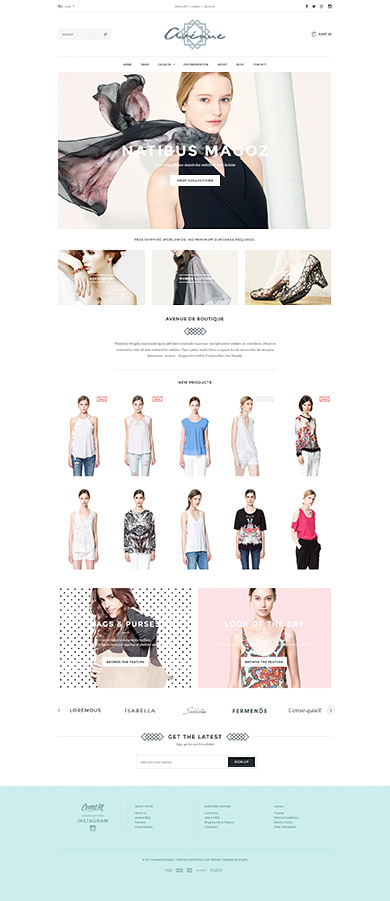 Avenue is undoubtedly one of the most liked and used a theme for setting up a fashion-oriented store. It has achieved great figures in terms of sales due to the various features that it provides. Being a fashion-oriented theme it takes care of all your needs for successful putting up an online boutique store. It comes along with a great design and style. Avenue has all that you need to get your store started and then making it to the top online boutique store. It will make your store look so fascinating that customers will fall in love with your store at the first glimpse.
The template is simple to use and comes along with detailed documentation. The responsive design allows it to run flawlessly on all devices. An image slideshow has been provided which will help you in portraying your products in the best possible manner and successfully woo the customers. The admin Backend allows you to easily edit and manage all the blocks. You will find the theme to be loaded with all the necessary features that you will need. Avenue surely will get you going in almost no time. Those who have used this theme have appreciated the work that has been put it. It is easy, effective and beautiful all at the same time.
High Fashion Responsive Shopify Theme – Parallax

This is yet another marvelous Shopify theme that is fully capable of providing you with a boutique store that you desire. It's a high fashion theme and is ideal for setting up a boutique store. The makers have made sure to add everything that the user will need. It has been empowered with the most enchanting function enhancing visuals. The layout performance of the theme is both amazing and unique. The theme is responsive and comes with a slideshow option, which definitely adds to the charm. The product images effect will help you display the products to the customers in a more attractive and alluring manner. The beautiful typographical is top notch quality. This theme is surely capable of doing wonders for your online boutique store.
ST Boutique Shopify Theme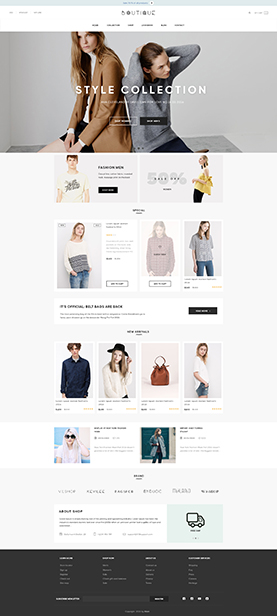 ST Boutique is a clean responsive Shopify theme ideal for building an online boutique store. The theme delivers a beautiful presence to your store and makes it look rich and elegant. It is a feature rich themes and offers a flexible design. The most amazing thing about this theme is that it perfectly puts together various blocks, banners, and colors.
It is built on Bootstrap 3 and works well on all devices with different screen sizes. It is a feature loaded theme and comes with 6 unique home layouts. Just name the feature and you will find it on this theme. If you are looking forward to building a store that looks elegant as well as unique then this is the right choice for you.
Everything – Multipurpose Premium Responsive Shopify Themes – Fashion, Electronics, Cosmetics, Gifts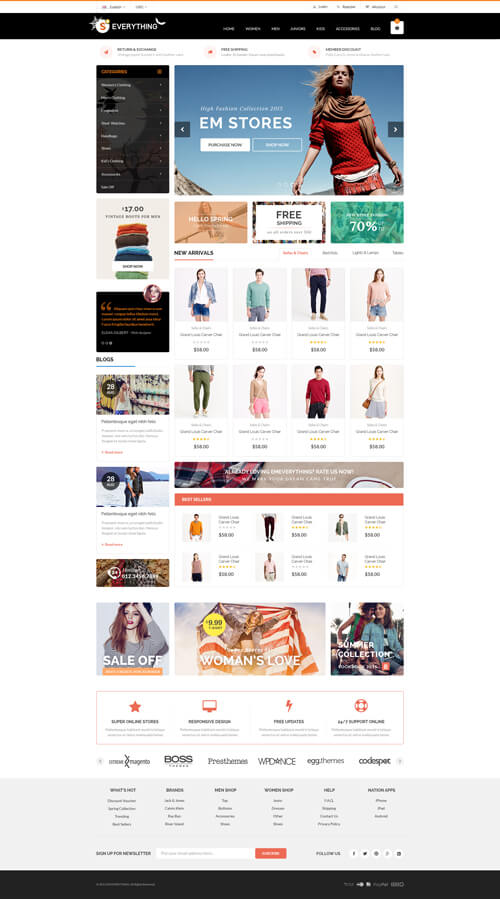 Just think of any store and you can develop it by using this template. Everything has received top notch sales figures and ratings. The theme has been developed and designed by ThemeForest's Elite Author. Everything offers great Mobile compliance and is strictly compatible and valid on W3C, HTML5, CSSC3. The theme comes with more than seventy pre-loaded designs that are ready to go. With more than twenty-five different homepage layout options you can create a store that you always dreamed of.
With all this being said you can choose any of these Shopify themes for your online boutique store according to your preference. All of them will work great and have their own advantages.
Shopify themes for Boutique Store Gallery Photos