TOP 5 THEMES FOR SPORTS
With the increase in the field of technology, almost all our daily works have been made easy which has led to a great decrease in a number of physical activities that we do. A prolonged lazy regime with less physical activity becomes the reason for many problems in the future. This shows the importance and difference that sports can bring in one's life. Sports helps you to stay fit and energetic. It is something which is needed for every age group. Youngster's need it, to grow in a healthy manner and learn how to co-operate with others and elder's need it to stay fit and use it as an exercise. For many, sport means life and it is a way of life and they can't live without it. Today many are choosing it as their career choice and pursuing their dreams. This leads to the success of the sports stores both online and offline. The e-commerce business for a sports store has bloomed. It is very important to choose a theme which brings the best out of your online sports store and it should not only be stylish but also user-friendly. It should sort the products in such a manner which makes it easy to access all the things that the customer requires. So here are some of the best Shopify theme for sports stores:
5 Best SHOPIFY Premium Themes Collection for SPORTS Store 2017
Outdoor Sports Shopify Theme – Xpresso

Xpresso is a Shopify theme for outdoor sports products but can be used for other products too. It is a clean yet stylish theme and has around five predefined independent skins. It is fully responsive and will run very easily on mobile devices also. Unlike any other theme, it offers a boxed as well as a full-width layout option. The mobile slideshow option is available for both videos as well as images and gives a great look to your sports store and makes it look a lot more attractive and appealing to the customers. The mega menu also includes images which is a unique feature. It is fully customizable and comes with a five presets color package. All over it will give your everything that you need from your online sports store.
Skate board Sports – Sports Shopify Them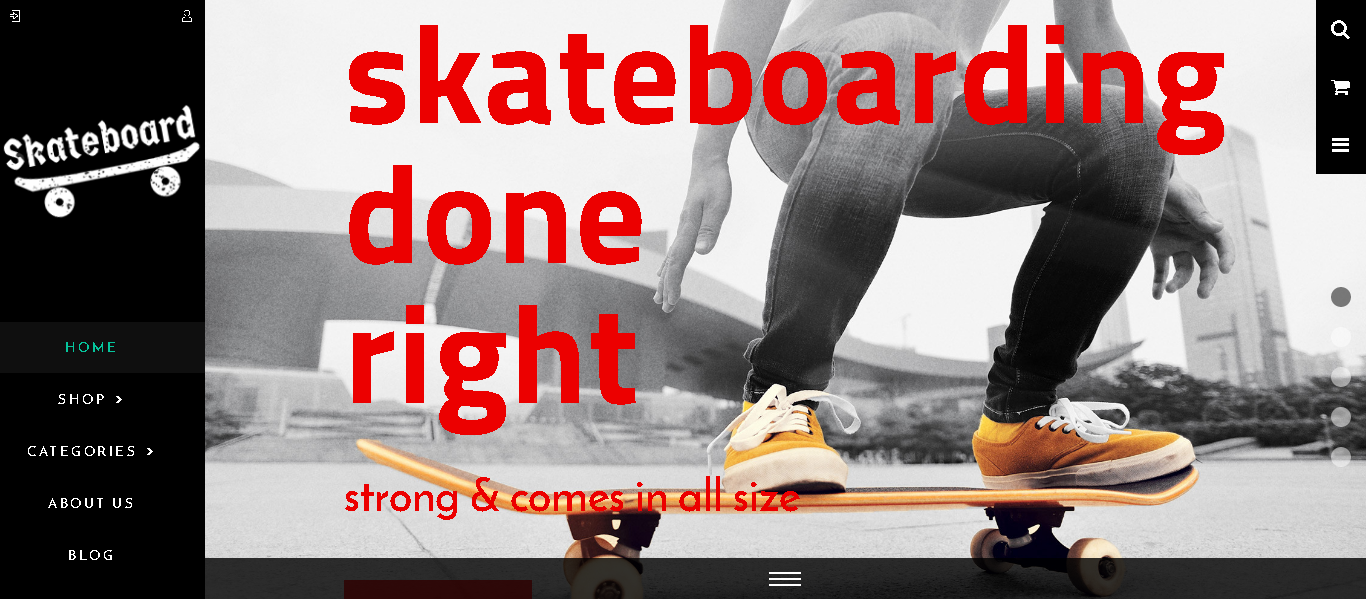 It is a very stylish and funky looking theme for products like skateboard, surfboard, skaters, snowboards etc. and it can be easily customized to meet the needs of any other sports store. It has a very responsive design which can run smoothly on any multimedia device. You can change almost anything that you want and the customization process is very easy and does not require any kind of coding. The ajax add to cart option along with the wishlist option comes in very handy for the user while shopping from the website. It is SEO optimized and uses the latest Shopify SEO features and product data is formatted for Google rich snippet so that product listings are optimized for search engines. This is the best bet for your Shopify theme for a sports store.
Bootstrap Shopify Theme -Winter Sports & Outdoors

If you are looking for a sports store then your search is over as winter sports is the best premium multipurpose Shopify theme designed and developed by ThemeForest's top elite author. It is strictly W3C, HTML5, CSS3 valid and compatible. Winter sports and outdoor is a very responsive theme and will offer you a great experience which no other theme can when using it on your mobile. Ajax filter product helps the customer and it also supports multiple currencies which make it very practical to use. The list of features is never ending. The custom effect for product image gives it a new look and the beautiful typography and detailed documentation places it among the best Shopify themes for your online store.
Ap Exgym

Ap Exgym is a responsive Shopify theme which makes it adaptable to all of your media devices. Social Network like Instagram or Facebook helps your customers to constantly track the activities of your website and it makes them connected and keeps them updated. This theme is powered with AP Shopify Framework which is one of the best Shopify frameworks. It is fully responsive and is boosted by twitter bootstrap 3 and supports both CSS3 and HTML5 that help to create refined web pages with semantic accuracy. It offers a powerful configuration with unlimited colors custom and has a mega menu along with two types product hover. The slideshow presented on the homepage makes it more attractive.
Emercato | Multi-purpose Responsive Shopify Theme – Sectioned Drag & Drop Theme Builder

The reviews have been great over the years and it tells the story of the success of Emercato. It is a clean, simple yet elegant and effective theme which can be used for sports stores and many other online businesses. The Drag and Drop Builder Shopify Sections make is very easy to personalize your website and gives you the sense of control. Crafted with mobile-first philosophy in mind it perfectly adapts to any modern device from desktops, mobile phones, tablets. Emercato is also equipped with a responsive and elegant megamenu enabling the customers to navigate any information they need. The list of features is never ending for this theme.