With the change in trend, even the bookstores have gone online and the trend of e-books has taken over. Book lovers, all over the world, have seen their world of books shifting from publishing houses to online platforms. Today, e-books have left behind hard cover books, but the latter has also managed to maintain its identity. So today, both co-exist, e-books and printed books. The online bookstore business has gained significant progress in the past couple of years and even selling hardcover books online has become a successful business. Right now e- books are probably enjoying the limelight and thus many have switched to the e-book business. The book business is one which will never stop. While setting up a bookstore online, the emphasis has to be paid to the theme to be used. The theme should be such that it not only attracts adults but also gets the attention of children as a major part of the book business is up and running because of books for children. The theme should be chosen carefully as a wrongly or correctly chosen theme can create a lot of difference in the sale figures. So here are some of the best Shopify themes for books in the market:
Top 5 Shopify Premium themes collection for Book Store
Shopify Ebook Theme – Bookshop Digital Download Product Shopify Template

This theme is ideal for setting up an online bookstore and is a very responsive Shopify theme which will be ideal for you online bookstore. You will surely be amazed with the layout and unlimited color options. It has three different unique pages with author listing option. The customer support is really impressive. The drop and layout features are something that every reader will want to have in an online bookstore. The products can be easily downloaded. The free wishlist and their easy compare module help you to easily compare between different products and choose the right one. The mobile touch slideshow images and videos is a unique feature that you will not find on other themes. The efforts put in creating this theme pay off with the great reviews.
Shop Town – Sectioned Multipurpose Shopify Theme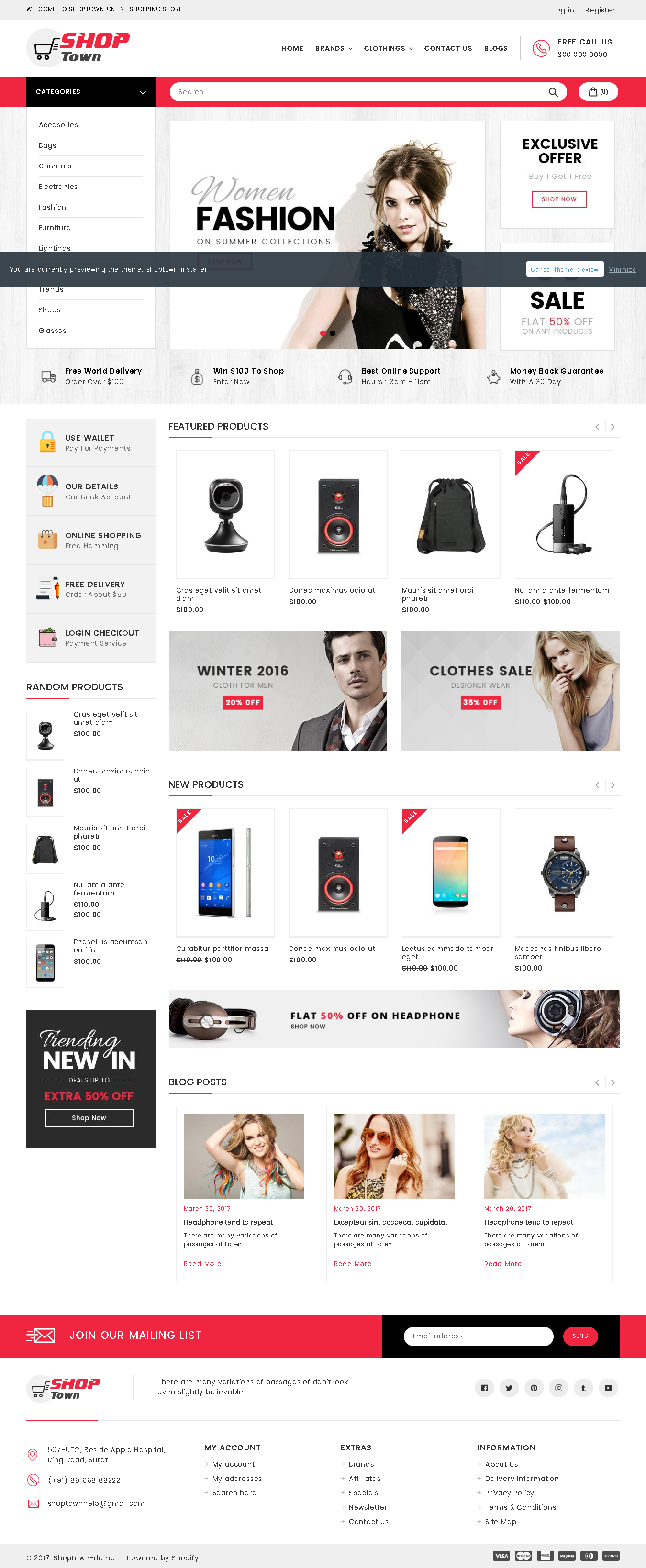 It is a hundred percent responsive theme which can run smoothly on all your multimedia devices. It is very easily customizable according to the needs of the customers. Shop Town Shopify Responsive Theme is specially designed for books, kids, and multipurpose stores. Shop Town Shopify Theme looks good with colors combination and layout. All sub-pages are customized. It is very nice with its clean and professional look which is simple yet elegant. It is built on HTML5 and CSS3 and has more that fifteen hundred font icons and is optimized for fast loading. The theme will definitely not let you down and deliver you with the best.
Branchy – Sectioned Multipurpose Shopify Theme

Brancy is a responsive multipurpose Shopify theme which is made especially for books, electronics, pet, kids and multipurpose stores. Branchy Shopify Theme is looking good with colors combination and comes with five different layouts. It includes the most attractive child theme which will definitely attract children looking for books. It is very nice with its clean and professional look. It offers easy template customization using powerful admin settings. Slideshow with titles and subtitles gives it a unique touch and can be efficiently used for a bookstore. If you are looking for a classy and efficient theme for your bookstore then this might be it.
SHOPIER | Creative Multi-Purpose Shopify Theme – Fashion, Supermarket, Electronics, Minimal

If you are looking for a theme for you online bookstore then your search just came to an end. This is amongst the best multipurpose Shopify theme specially designed for a bookstore and has shown great sales in the past years and has received a very positive response from the customers. It is a feature loaded theme with easy to edit content in sections without hassle. The option of choosing from more than twenty-four pre-made homepage does gives a lot of joy to the user and gives them a sense of control. The dynamic layout gives you the option to make unlimited theme elements easily. The theme is both unique and features loaded and it will surely help you to achieve your desired goal.
Catchy – Sectioned Multipurpose Shopify Theme

Catchy Shopify Responsive Theme is specially designed for books, kids, and other stores. Catchy Shopify Theme is looking good with colors combination and layout. It is very nice with its clean and elegant look. It is a fully responsive theme compatible with new sectioned theme customizer and supports Multiple Language and offers full PSD files supplied. The very well built structure which is very easy. The well-structured theme with an amazing layout.